36 Home Depot Life Hacks To Make Your Life A Little Easier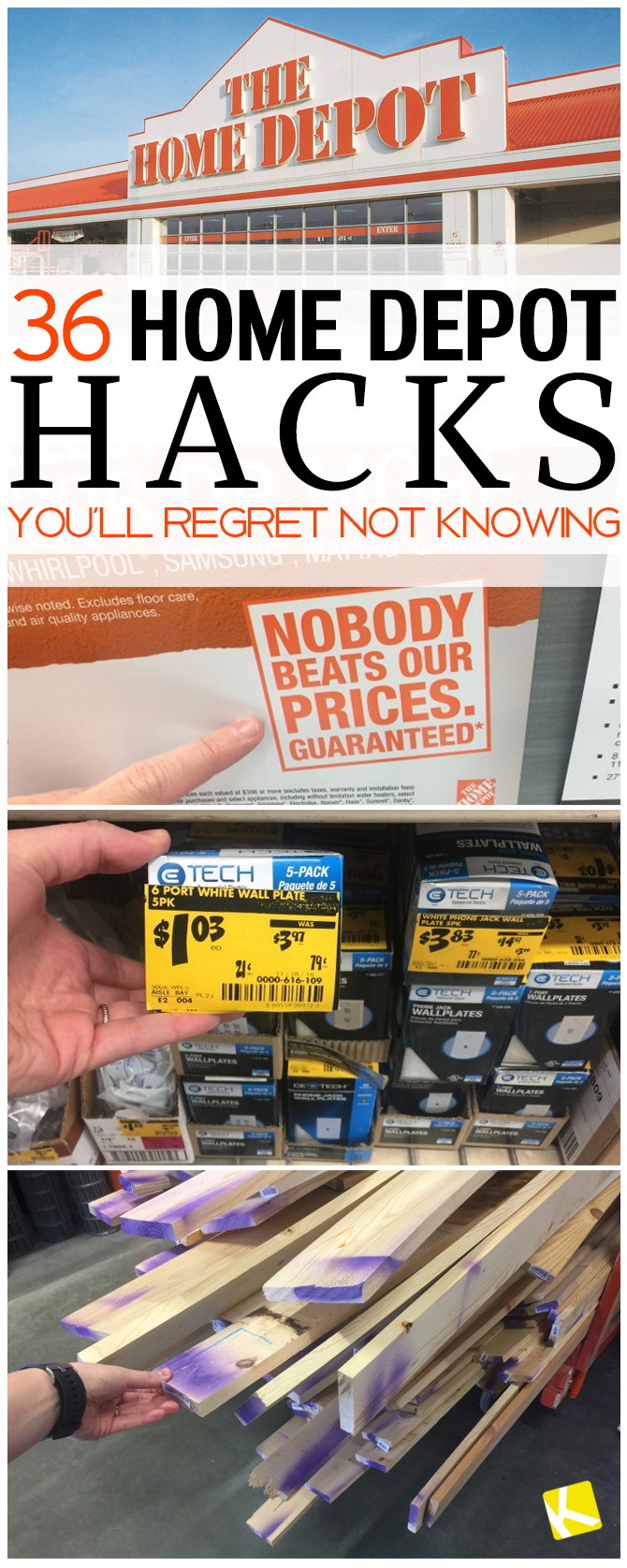 When you shop at Home Depot
 with this strategy, you'll never need to pay full price.
So don't start that Pinterest project or home remodel quite yet. In fact, don't plan your next move until you've read this! (Because, #14.) # Love Home Depot Life Hacks 
1. You can return dead trees, perennials, and shrubs for 365 days after your purchase.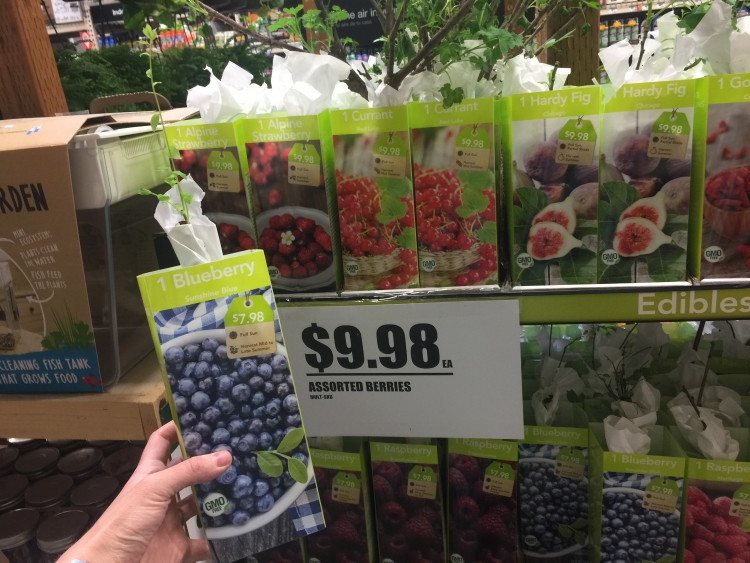 Live trees, perennials, house plants and shrubs have a one-year guarantee. So, if your shrub dies on day 359, you can dig it up and return it.
If they arrive damaged or dead, call within three days to get a replacement delivered at no charge!
Confession: This is the only way I can keep plants alive. # Home Depot Life Hacks 
2. Take advantage of the 110% price-match policy.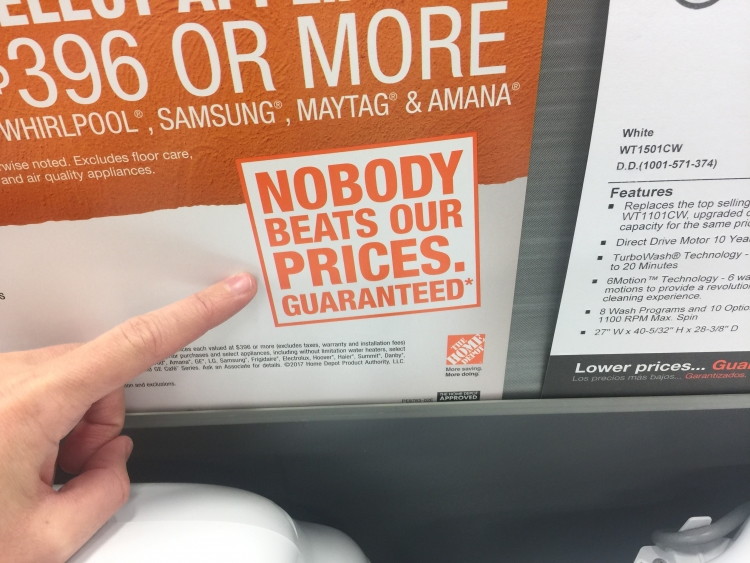 You should totally stalk Home Depot
 competitors like Sears, ACE or other local stores, and when you find a cheaper price on an exact item, price match at Home Depot.
You'll get an extra 10% discount on your item.
Just bring in a local competitor's flyer and ask for the price match + 10% off. (You won't get the extra 10% off on your online purchases.)
3. Get a 30-80% discount on leftover wood pieces to complete your Pinterest project.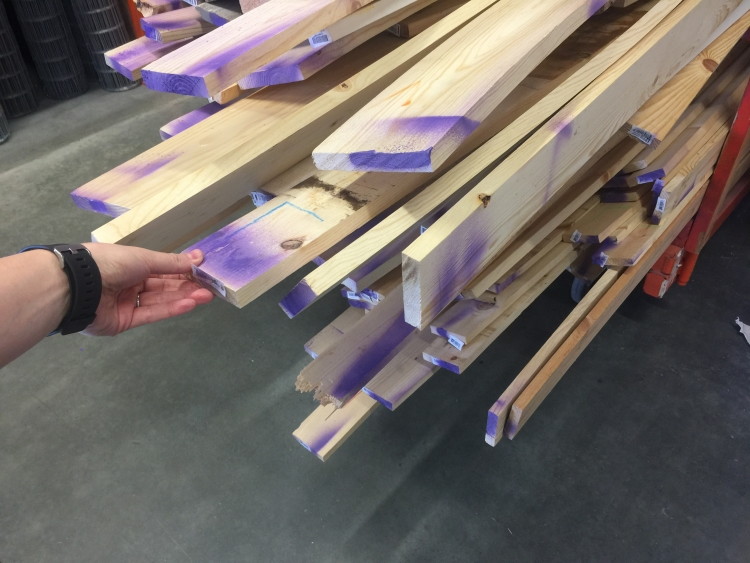 If you need a stack of recycled lumber and you aren't sure where to find it, check the very back of the lumber section, or ask an associate where they keep the leftover pieces.
You can score some useful scraps for up to 80% off! In this case, all the clearance wood pieces were marked with purple.
4. Spending over $1,000 on materials? You can get 20% off.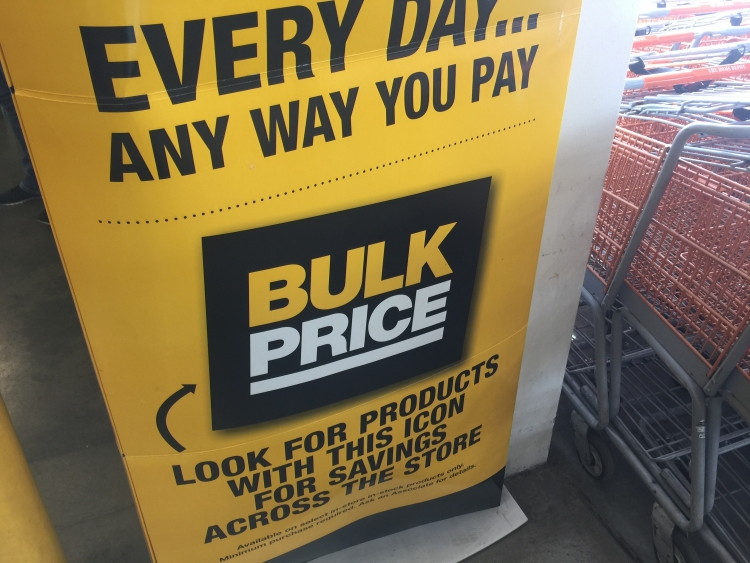 Head over to the Pro Desk if your project materials will total over $1,000. For some materials, the volume discount threshold is more like $1,500, but always ask.
The Pro Desk is generally for contractors, but it's technically open to anyone. Aim for 10-20% off your total.
TIP: This process isn't immediate. If you're hoping to work on your project over the weekend, ask mid-week so the bid has time to process through Home Depot's corporate office by the time your weekend hits.
5. Ask for a 10-20% discount on floor models in August.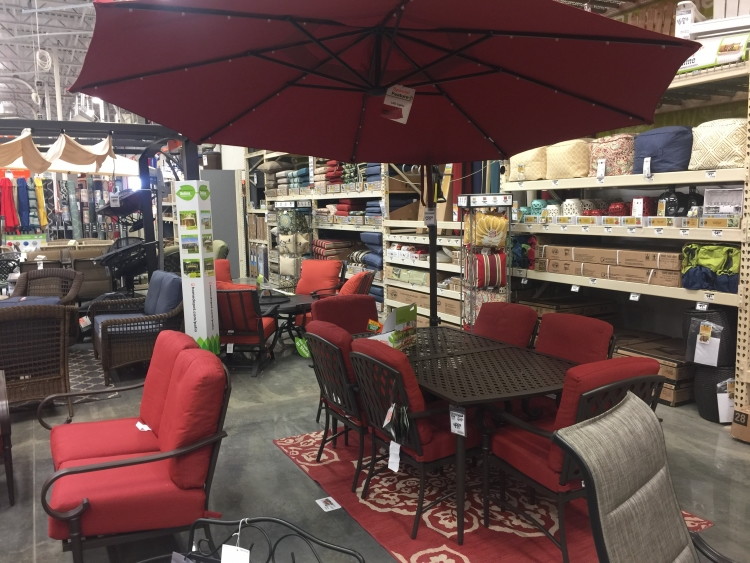 Try asking for a discount on floor models when it comes to lawn equipment, grills, or patio furniture.
For the most leverage, ask in August when the major selling season has ended and everything is already discounted.
They're more likely to give you an additional discount if the item is a little worn or damaged.
6. Get your tools repaired for free.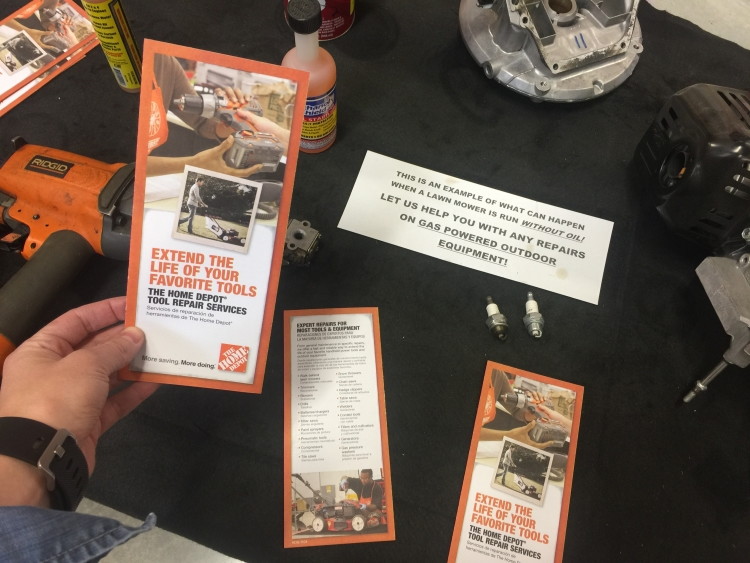 If your tools are still covered under the manufacturer's warranty, Home Depot's expert technicians will repair them and file a claim at no cost to you. Each repair
 is backed by a 90-day guarantee.
7. Get a $30 gallon of paint for $9 when you get it from the "oops" bin.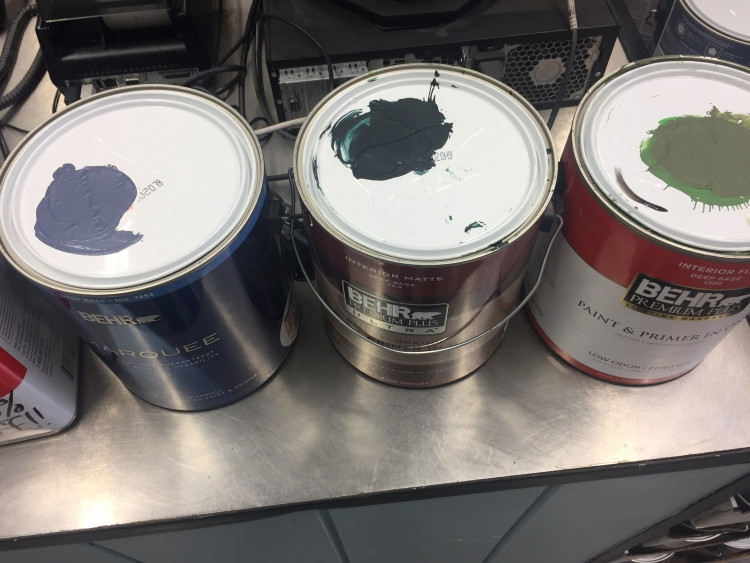 Ever wonder what the paint technicians do with paint that isn't tinted exactly right? They stick it in the "oops bin" for sale at a steep discount, clearly.
All "oops" gallons are marked down to $9, even if they were originally over $30! # Home Depot Life Hacks 
8. Get a $5-off coupon when you join Home Depot's email list.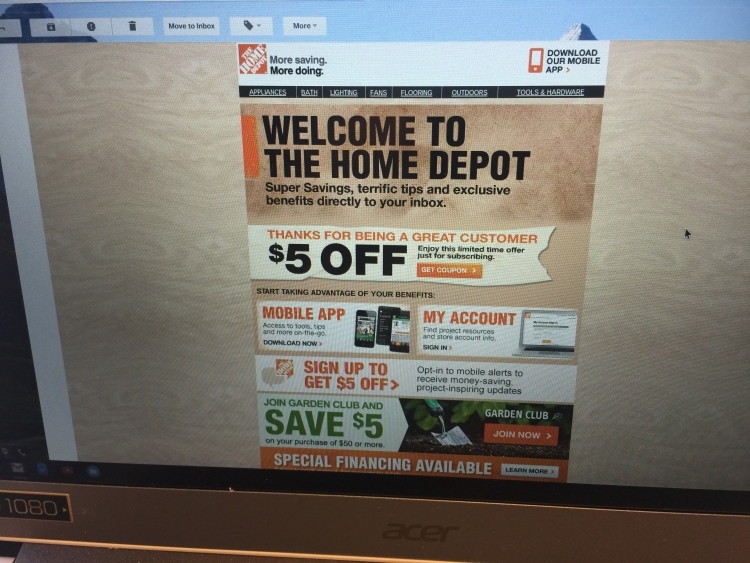 Once you submit your email address
, a "$5 off your next $50 purchase" will land in your inbox.
Plus, you'll get alerts for Home Depot's Special Deal of the Day, which features discounts up to 50% off. Plan your big shopping trips around this.
9. Save up to $500 by using the online Rebate Center for your appliances and installations.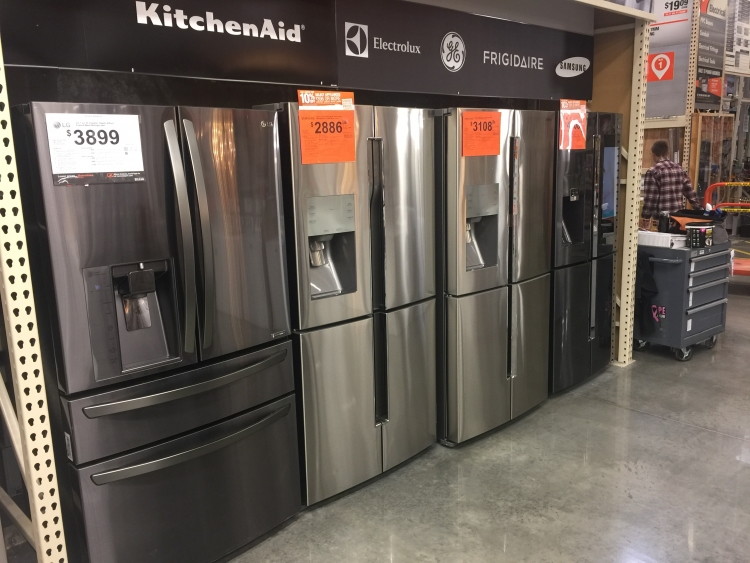 Always check Home Depot's online rebate center
 for special rebates on refrigerators, freezers, and installations.
For example, right now you can save $450 on your attic's fiberglass insulation installation.
10. Check the aisle end-caps for clearance items.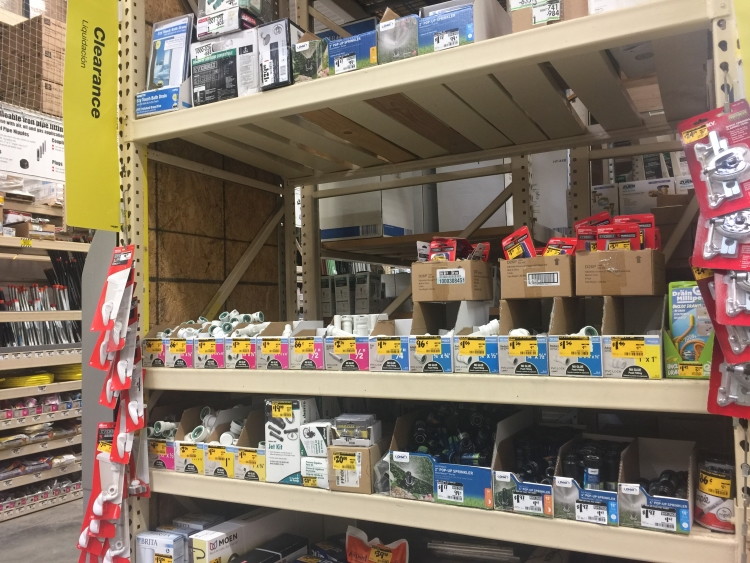 If you're willing to set aside your organizational OCD and dig in, you can find great deals in the clearance bins.
11. Yellow clearance price tags ending in $.06 will drop again in 6 weeks.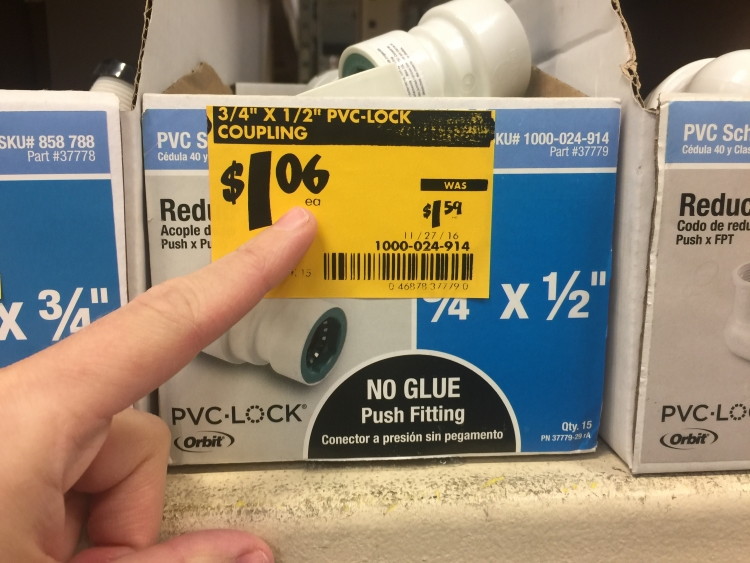 These items are already on clearance, but if you can wait six weeks, you'll see the price lowered again.
12. Yellow clearance price tags ending in $.03 will drop another 3 cents before getting removed.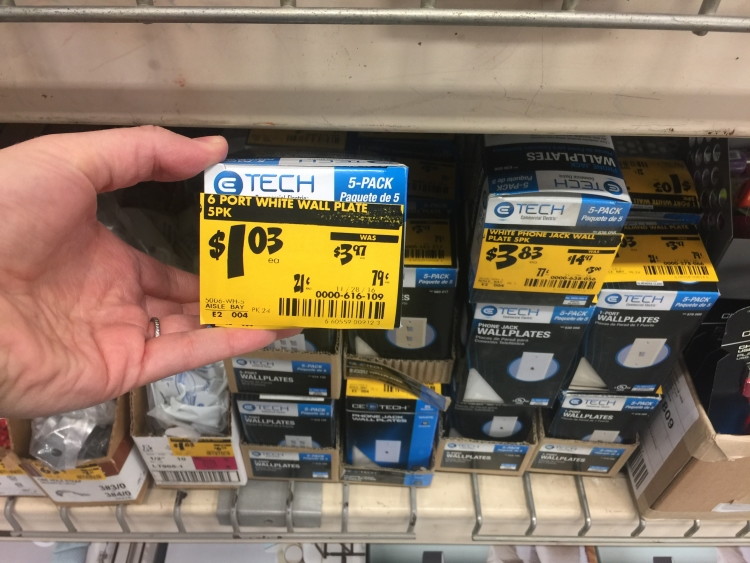 These clearance items are on their way out. Unless you want to wait for the item to be discounted another $0.03, snag it before it's removed from the shelves completely. #Home Depot Life Hacks 
13. Use the 10-15% off "Mover's Coupon" in your USPS Mover's Packet.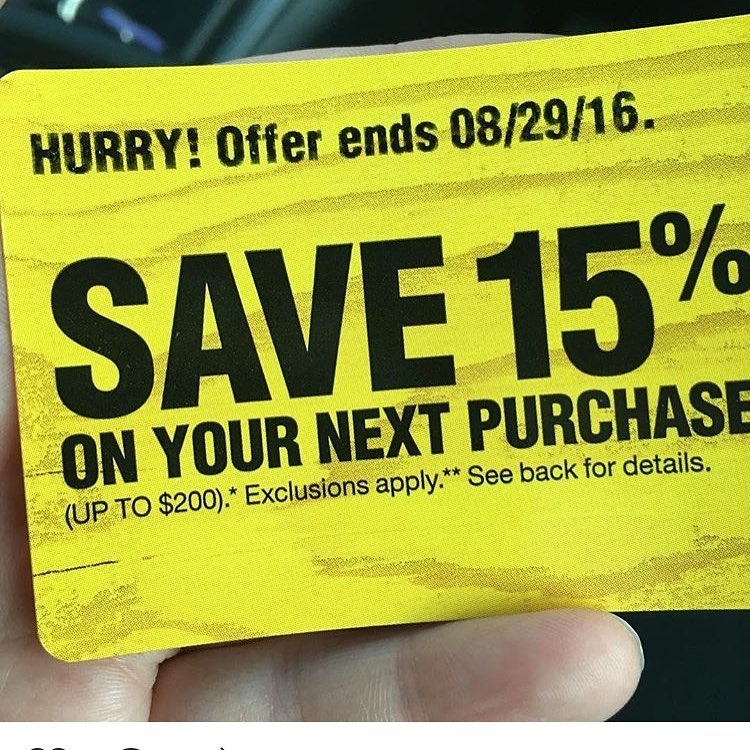 Via @rjay_couponer
Changing your address? When you get your Mover's Packet from the post office, look for a 10-15% off Mover's Coupon for Home Depot. Or just buy one off eBay. #Home Depot Life Hacks 
14. Get up to 20% off a moving truck when you make your reservation on HomeDepot.com.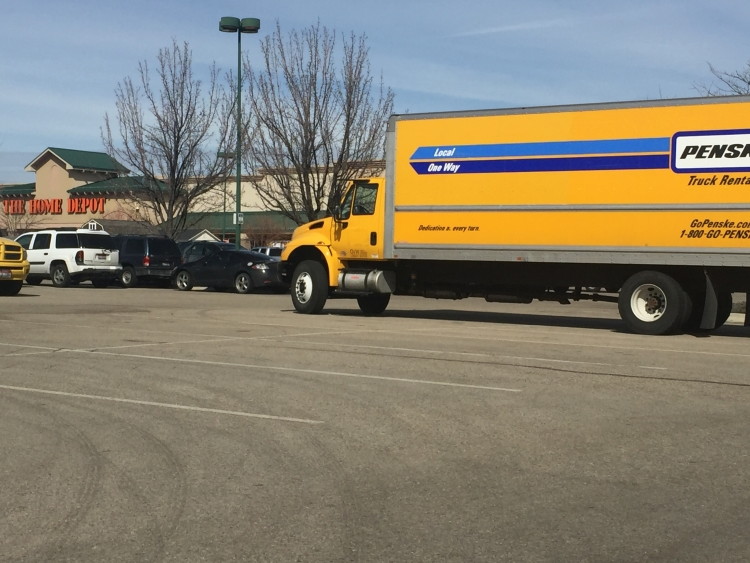 Home Depot's moving truck prices beat U-Haul.
Get 10% off for reserving a Penske truck online, with an additional 10% off for college students, AAA members, and members of the military.
Plus you'll get unlimited one-way miles on Penske trucks nationwide.
For example, if you're looking for a 26′ truck to move your 4-bedroom house from Boise, Idaho to Portland, Oregon, Home Depot (Penske) comes in at $146.70 with unlimited mileage (including a $16.30 online booking discount). You could knock another 10% off with a AAA membership too! You'd pay $173 for the same trip in the same size U-Haul truck.
15. All veterans get an extra 10% off on Memorial Day, 4th of July, and Veterans Day.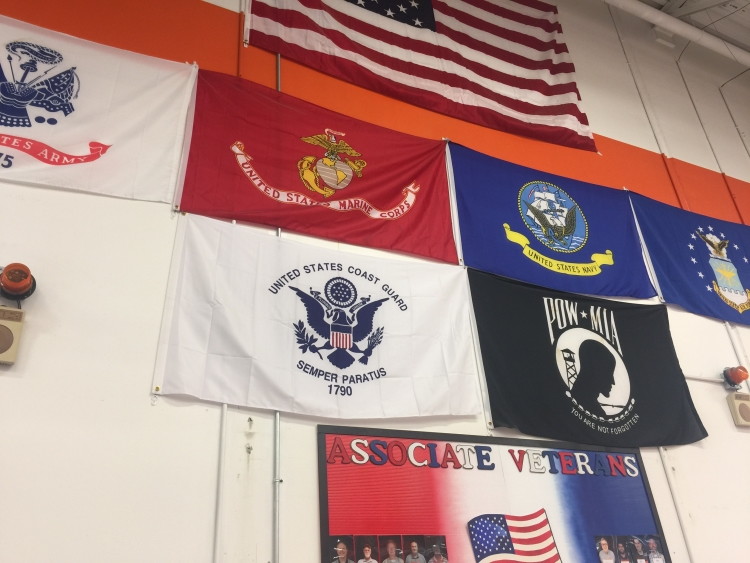 All military personnel and veterans are eligible for a 10% discount at all The Home Depot store locations during national holidays such as Memorial Day, July 4th and Veterans Day.
Active and reserve military personnel, along with retired or disabled vets and spouses can get the 10% discount every day, upon request.
Just show your military ID for the daily discount. For veterans, show your DD214 on Memorial Day, July 4th and Veterans Day. # Home Depot Life Hacks 
16. Check RetailMeNot and Groupon for promo codes and rebates.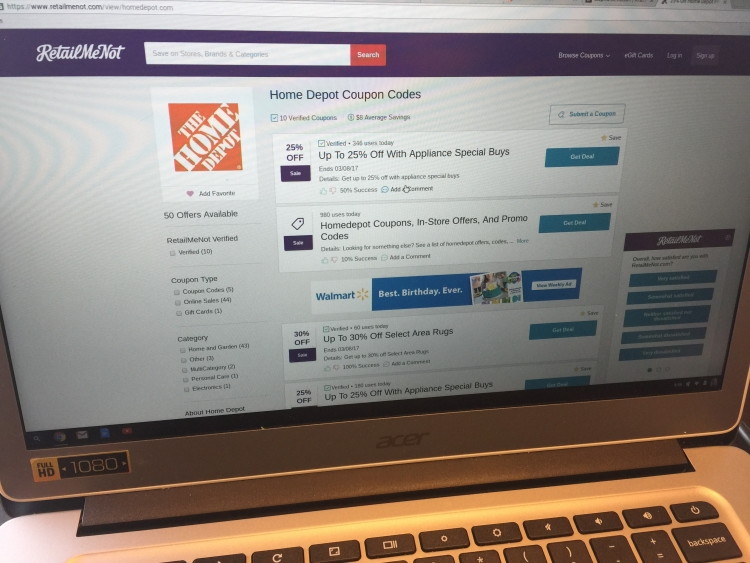 Last time we checked, RetailMeNot had a promo code for $5 off your next $50 purchase at Home Depot.
Stack these promos with discounted gift cards to see the most savings. Which leads me to. . .
17. Use discounted gift cards from Raise.comfor an instant 8% off.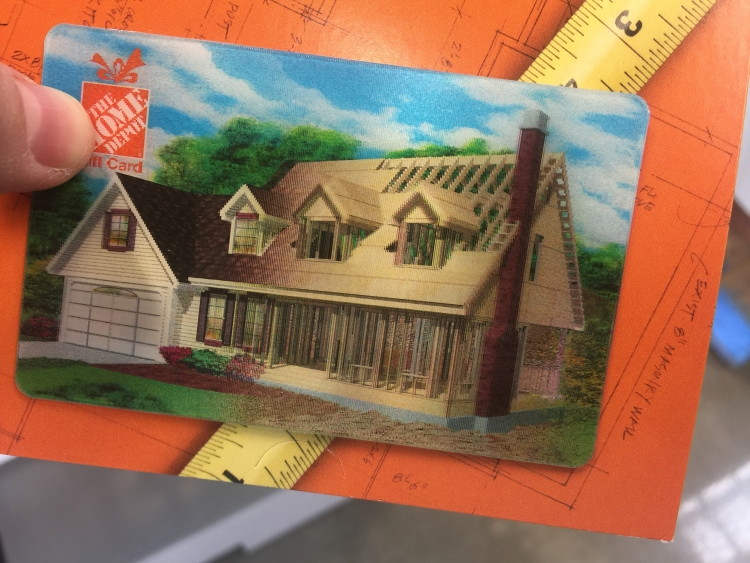 We've seen discounted gift cards for Home Depot average around 8% off from Raise.com. After you purchase the discounted gift card, use it just like cash.
18. Sign up for text alerts to get $5 off.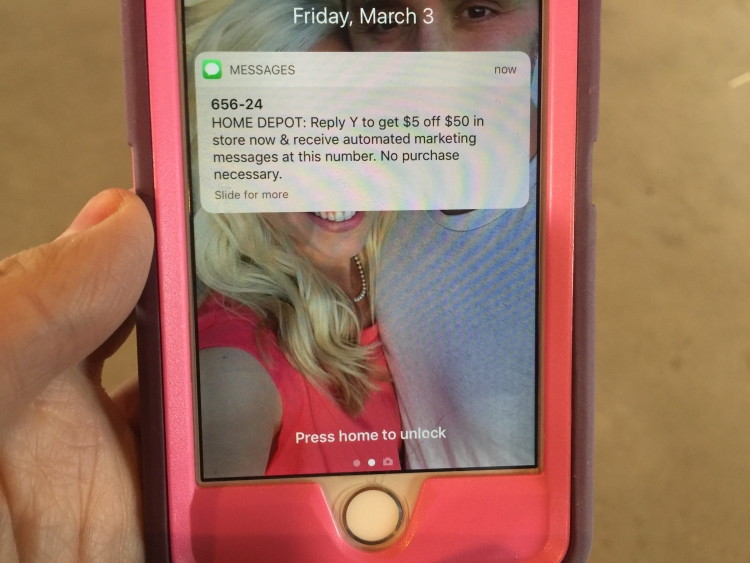 Expect about 10 texts/month featuring special offers and design tips. Just enter your phone number
 to receive a $5 off coupon for your next $50 purchase.
19. Use Paribus to get money back if your purchased item goes on sale.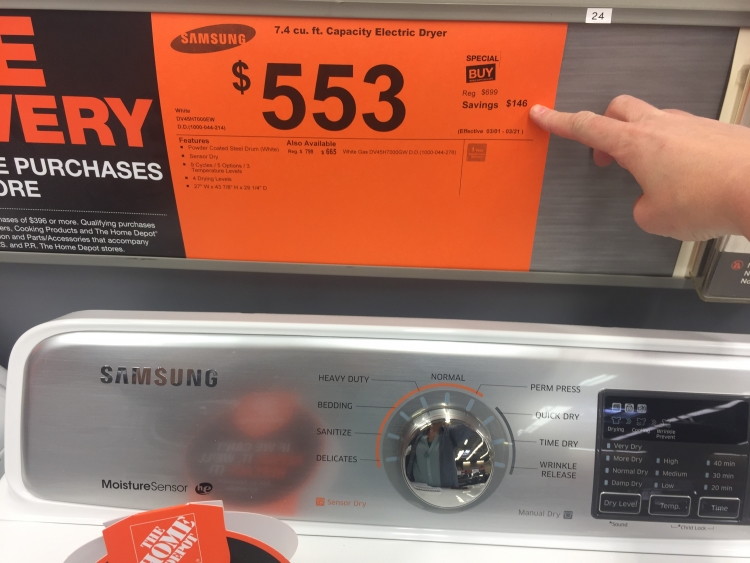 Just be sure to sign up for Paribus and get your Home Depot receipts sent to your email. Paribus will track whether your item goes on sale and get the refund for you!
Download Paribus now to start getting price adjustments when your items go on sale.
20. Ask for 10% off damaged items or packaging.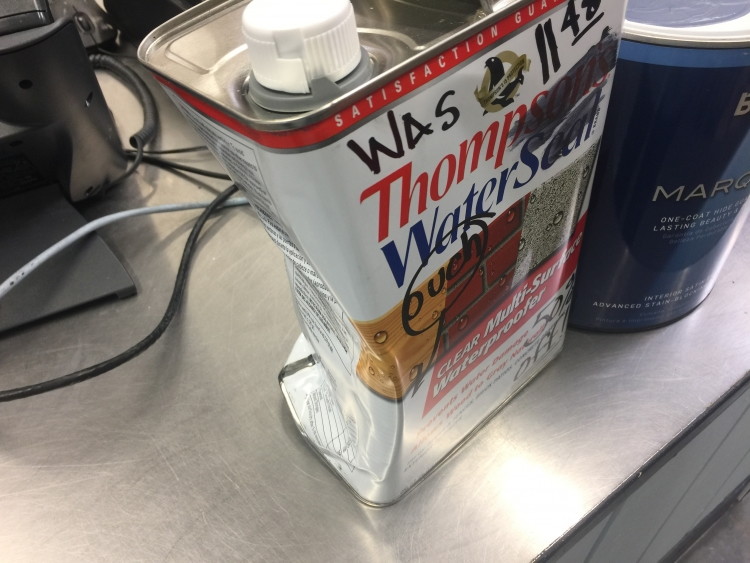 Cashiers will often agree to a 10% discount if the packaging or item looks damaged, but you have to ask.
And hang on to the receipt for an easy 90-day return in case it really is damaged.
21. Rent machinery or power tools by the hour, day, week, or month for a fraction of the retail cost.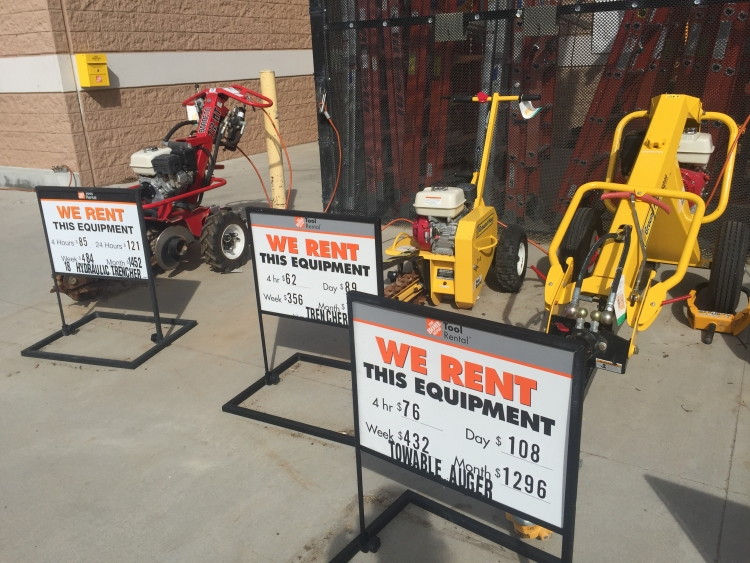 Let's say you need a power washer to clean your deck or patio furniture. You can buy one for over $200, or you can rent a heavy-duty model for less than $30 for the afternoon (4 hours).
When we need our carpets cleaned, we rent a carpet cleaner from the Tool Rental Center for $25.
22. Shop online for the biggest discounts, and get free same-day pickup.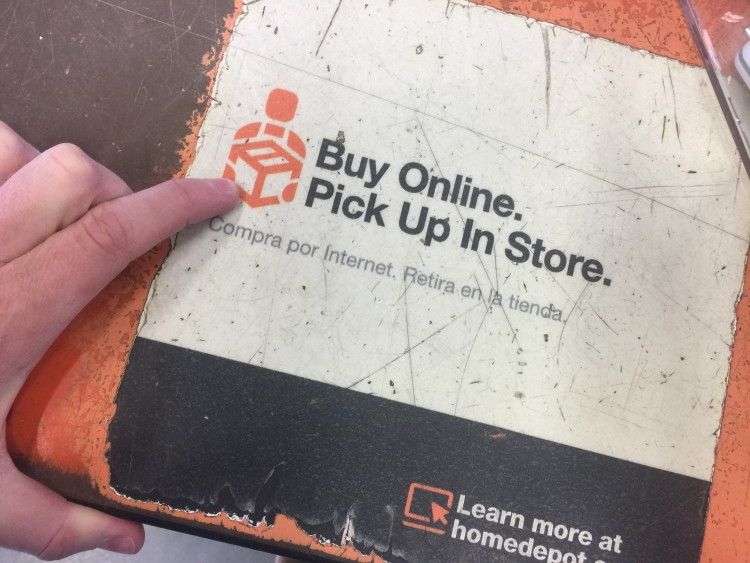 Check online prices before heading into Home Depot for special online-only deals and coupons (like the Special Deal of the Day
).
If you need your order the same day you placed it, you can pick it up at the store within 2 hours for free
!
Plus, Home Depot offers free online shipping and returns on orders over $45.
23. The best time to buy paint is on holiday weekends like Memorial Day and Labor Day.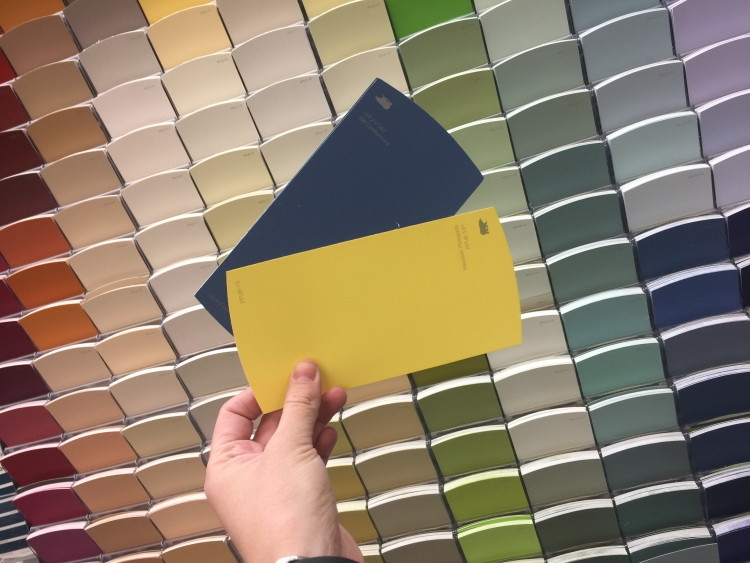 The biggest discounts are applied during any 3-day weekends like Memorial Day, 4th of July, and Labor Day. Plan ahead to save around $5/gallon! # Home Depot Life Hacks
24. Get freebies and members-only coupons when you join Home Depot's Garden Club.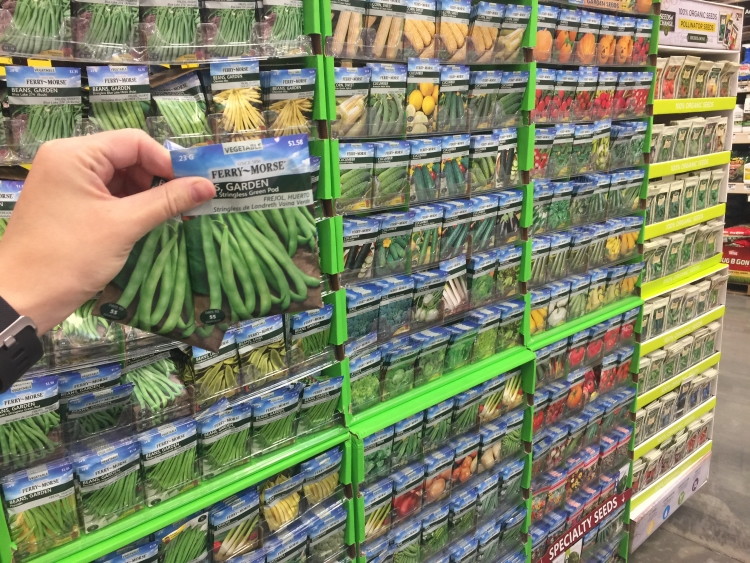 You don't need to be an avid gardener to join the club.
Sign up for Home Depot's Garden Club
 to get tips and special promotions emailed to you, including the occasional freebie!
If you're taking a big haul, ask for a volume discount.
25. Rent a Load n' Go truck for $19 or a trailer for $27 to bring home a heavy load.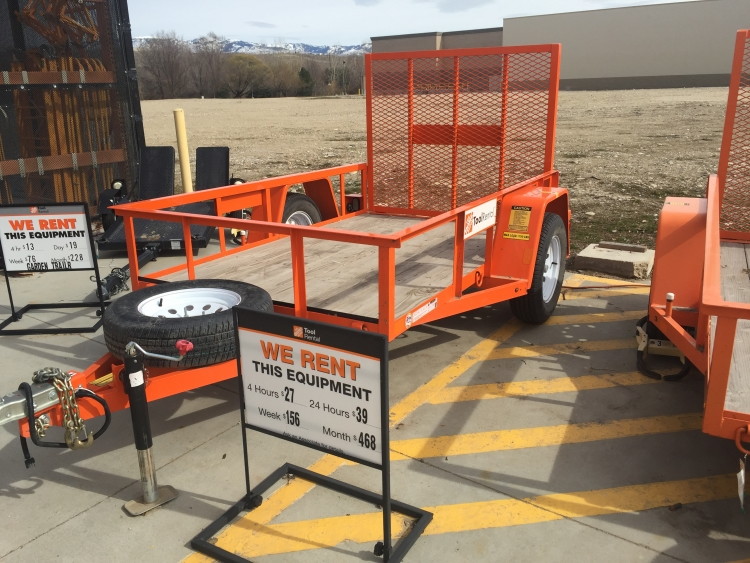 You're standing in the aisle thinking, "How the heck am I going to get all this home?"
Just add an extra $19 to your bill, and borrow a Home Depot pickup truck to take it home with you that day. You'll have 75 minutes to get everything home and return the truck.
26. Sign kids up for free in-store Saturday morning construction kit workshops.
Kids get to create cool household items like matching bookends or a rain gauge.
They'll also take home their own workshop apron, commemorative pin, and certificate of achievement!
It's 100% free. Register online
 in advance.
27. Attend adult workshops and only pay the cost of project materials.
Avoid wasting money on your next Pinterest Fail and attend a quick evening workshop to learn from experienced professionals.
You can make things like a vertical herb garden, holiday decor, or even learn how to lay tile!
Weekly workshops cover installments, building projects, and home decor.
Pretty much worth it just for the chance to use power tools.
28. Pick up holiday clearance by the Contractor Services Center for up to 90% off.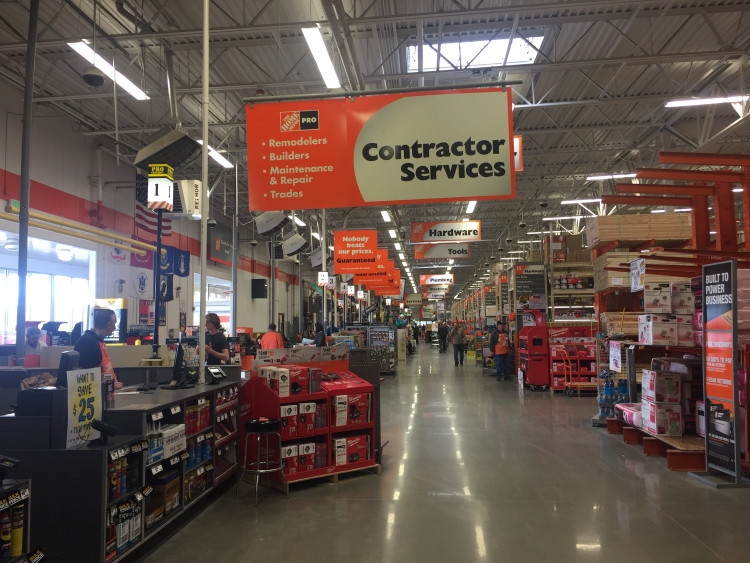 This is where you'll find some killer deals on holiday decor, especially Christmas and Halloween.
29. Ask for discounts. Employees can give up to $50 off every day without supervisor permission.
Take this one with a grain of salt or consider it "negotiating firepower."
There has to be a good reason for the discount (like you're buying a large-ticket item), but it's part of Home Depot's amazing customer service policy to keep you loyal and happy. # home depot life hacks 
Never, ever hurts to ask.
30. Get up to 40% off kitchen and bath from mid-January to mid-March.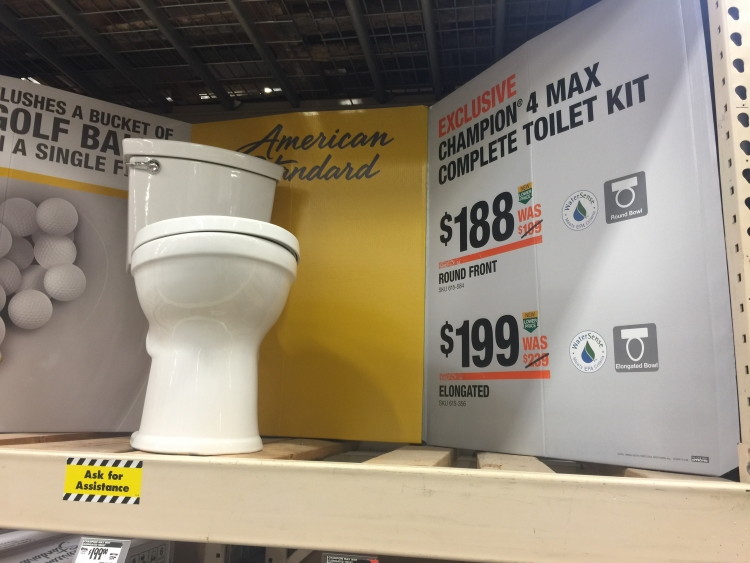 Home Depot's Kitchen and Bath Event runs from mid-January to mid-March. You'll see up to 40% off everything you need to redo these spaces.
31. Best things to buy are LED lightbulbs, vacuums, and live plants.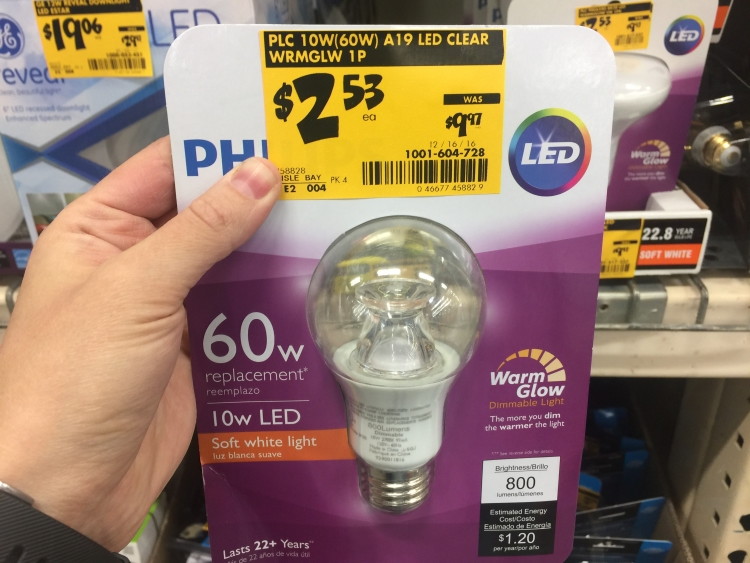 You can find LED lightbulbs for up to 70% off. Vacuums and other floor cleaning products are often marked down as much as 40%. And with the 365-day live plant guarantee, there's almost no financial risk. # Home Depot Life Hacks
32. Skip home decor and smaller kitchen or grilling accessories.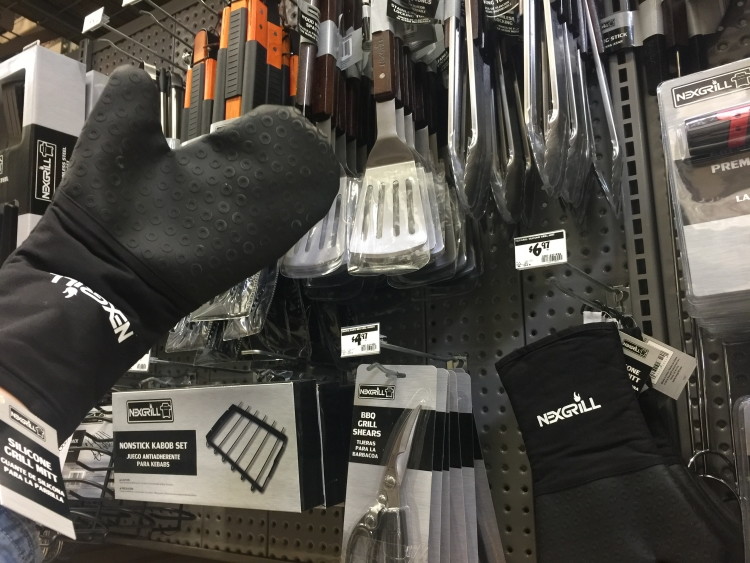 It's tempting to finish off your newly remodeled kitchen or living room by grabbing items like wall art or silverware, but just don't.
Home Depot doesn't have the best prices on these items.
Instead, check Kohl's or Hobby Lobby, or shop online with Wayfair or Overstock for home decor and accessories.
33. Get your landscaping and spring cleaning done during Home Depot's Spring Black Friday sale.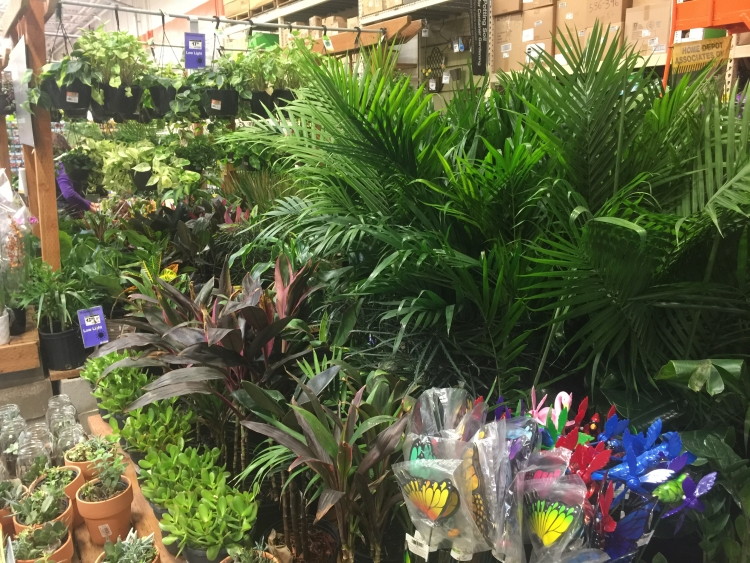 Ok, so it's basically a marketing gimmick. But I don't care as long as there's a legit deal!
Home Depot knows the term "Black Friday" will bring folks running, so they started a Spring Black Friday sale to give landscapers and spring cleaners a weekend to splurge. # Home Depot Life Hacks 
The sale usually kicks off in April, so look for deals like 5 bags of mulch for $10, packs of annuals for $1, and gas grills for under $200.
34. Never pay full price for ceiling fans or lighting.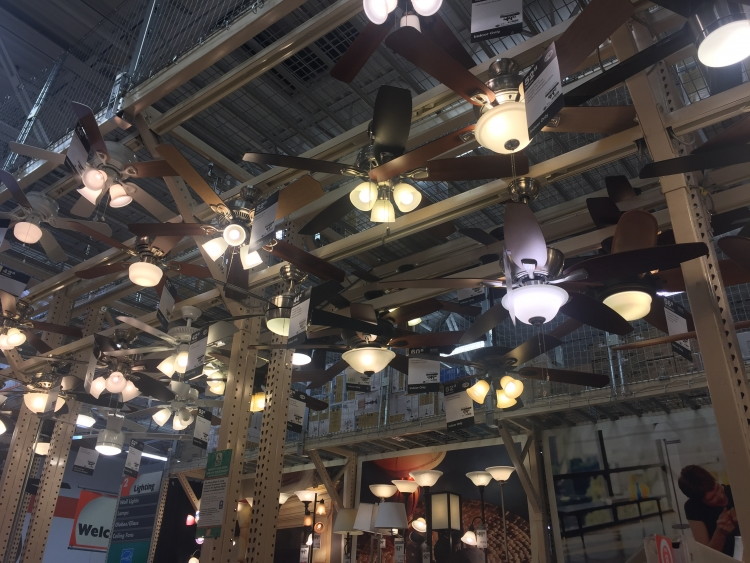 There are always discounted yellow-ticket items in the ceiling fan and lighting aisle. These markdowns typically range from 50-80% and rotate all year long. #punny
35. Teachers don't pay sales tax!
Teachers and other tax-exempt folks can avoid paying sales tax
 on purchases they plan to use in their classrooms. Depending on your state's sales tax, that's quite a discount!
It bears repeating that you won't get a discount for items you're buying for personal use. Only for items you'll use in the classroom. # home depot life hacks 
36. Employee benefits rock. Totally worth it.
If you're looking for a job, put Home Depot on your list to consider.
Home Depot employee benefits include health insurance, tuition reimbursement, and retirement.
Plus stock options, veterinary insurance, auto insurance, relocation assistance, backup dependent care, and more.
Oh, and part-time employees can enjoy dental, vision, short term disability insurance, and life insurance. That's a pretty sweet gig.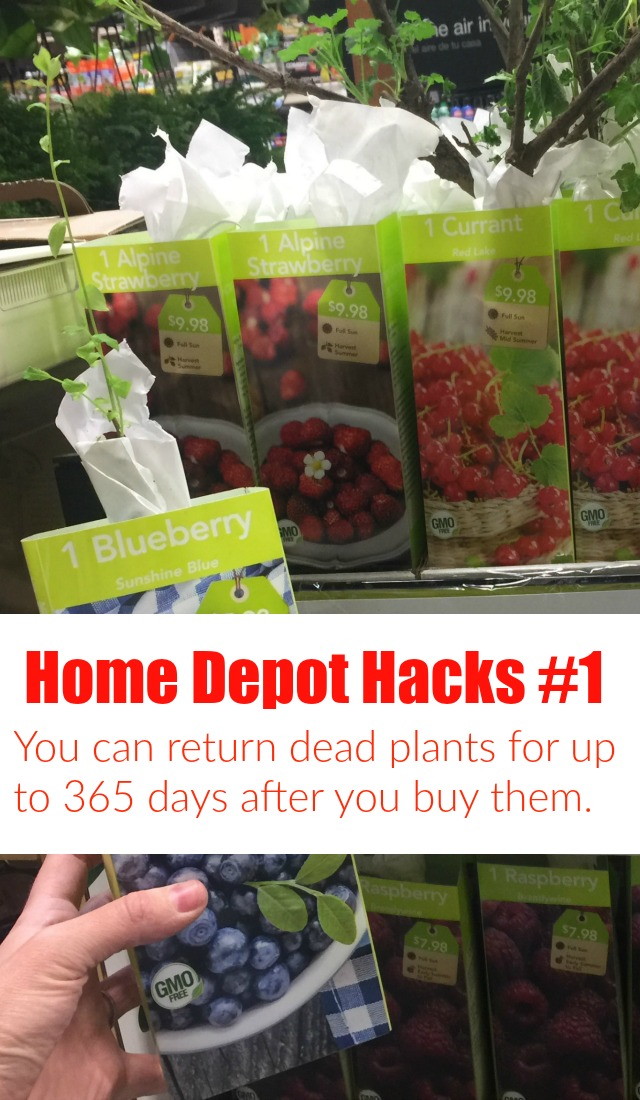 If you loved these Home Depot Life Hacks Then Don't forget to share our post below
Credit thekrazycouponlasy.com